The Scenario
Assume the US economy is operating at an aggregate output level above potential output.

Draw a graph showing AD, SRAS, LRAS, equilibrium output & aggregate price level.

Now assume the Fed uses contractionary monetary policy.

Identify the open-market operation the Fed would use and draw a money market graph to show the effect of monetary policy on the nominal interest rate.

Show how the Fed's actions will affect equilibrium in the aggregate demand and supply graph you drew previously and the new aggregate price level.

Draw a graph of the foreign exchange market for the US dollar relative to the Euro

How will the Fed's contractionary monetary policy affect the real interest rate in the US?
The Inflationary Gap
Aggregate output level above potential output: inflationary gap

Axes

x-axis: Y = rGDP (real GDP)

y-axis: Aggregate Price Level

Aggregate Demand

Consumer Expenditures + Business Investment + Government Expenditures + Net Exports

Y = C + I +G + NX

SRAS

Equilibrium output & aggregate price level

The intersection of AD and SRAS

LRAS

To the left of the equilibrium

Aggregate output level is above the potential output

Potential output (Yp)

The intersection of LRAS and x-axis
Money Market
Expansionary Monetary Policy
Contractionary Money Policy

Buy Government Securities After Lowering Target Fed Funds Rate
(Open Market Operation)

Sell Government Securities After Raising of Target Fed Funds Rate
(Open Market Operation)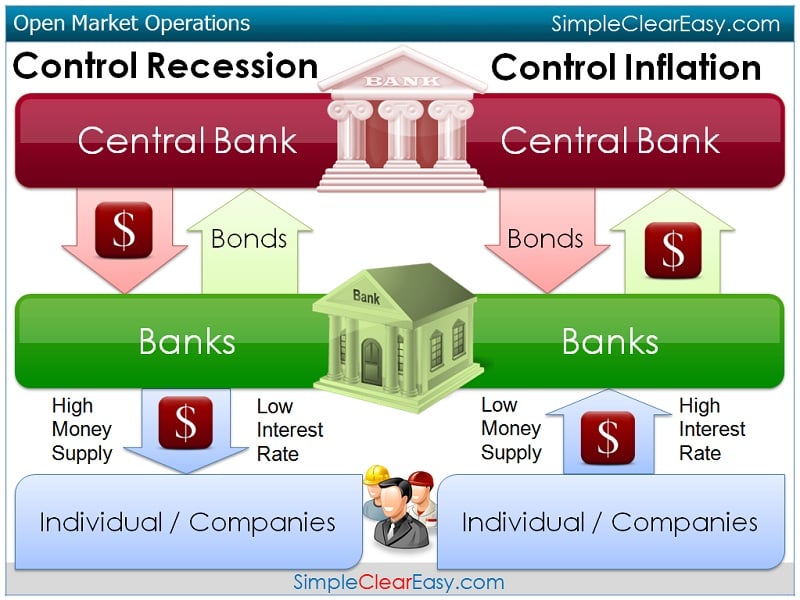 Axes

x-axis: Quantity of Money

y-axis: Nominal Interest Rate (r)

Money Demand

Money Supply

Straight Vertical Line, since the Fed control the money supply

Expansionary: MS shifts to the right, lowing the nominal interest rate

Contractionary: MS shifts to the left, raising the nominal interest rate
New Equilibrium
Higher interest rate = Decreased investment

When interest rates go up, both consumption and investment decrease.

Y↓ = C↓ + I↓ + G +NX

Aggregate Demand↓

Aggregate Price ↓ as a result of contractionary monetary policy
Exchange Market
Axes

x-axis: Quantity of Dollars

y-axis: Euros per Dollar

No effect in the long-run.

Since money is neutral, monetary has a short-run but not a long-run impact

Price level↓ Demand for US dollar↑

Dollar has appreciated, because demand for US dollars has increased
Major Factors that Shift Curves in Each Model